My girlfriend and I went to Paris last fall. We both love cities and consider ourselves masters of navigating New York. We love wandering neighborhoods, going to parks, heading outside without a destination in mind just to be out in the city.
I'm making it sound quaint but I assure you we're all business. We're New Yorkers and, thus, competitively good at leisurely strolls. Meet us in Prospect Park at dawn. We'll leisurely stroll the shit out of you. You wanna go? Yeah. Didn't think so.
It was my first time visiting and her second, so, when we planned our Paris trip, we decided to attack it. "We're going to walk the shit out of that city," was our mantra. In retrospect, we were kind of putting a lot of pressure on ourselves.
Everyone told us that we would love Paris. LOVE Paris. Because it's Paris and Paris is lovable. We did not doubt this. We like wine. We're both intelligent, relatively well read. We appreciate art. We're both, like, urbane. We were gonna love the shit out of Paris.
Also, we weren't going to be tacky American tourists. We were going to find the cool, authentic, Parisian stuff. As New Yorkers, we knew we didn't want to be the kind of people that would head straight to Times Square. On the other hand, if you've never been to New York, how can you not go to Times Square?
I came up with a compromise: we'll hit the Eiffel Tower first thing. My girlfriend liked the idea.
We dropped our bags off at an Air b 'n b, went to a cafe across the street, had a cappuccino and a croque monsieur (do you go to New York without having a slice?). Then we started walking to the Eiffel Tower. Paris! We are walking the shit out of you.
After a half hour then forty-five minutes and no Eiffel Tower in sight, we realized that, uh, Paris is kinda big. But we soldiered on.
It was a cloudless day and we got there when the sun was starting to set. So, we got to see the city right before sunset and then, when we got to the top (where there was a stand selling champagne which is both authentically French and incredibly touristy at the same time) we got to see the city lit up. And on the way down we saw the inside of the Eiffel tower with its lights at night. We finished the night off with a nice dinner with a bottle of wine. It was a good day.
After that, though, a sort of panic set in. Day one went well but we had to continue the streak. We wanted to see Paris, I mean, really see Paris because we were going to love Paris. LOVE Paris.
So, we set off to see Le Marais, The Picasso Museum, the Rodin Museum, Shakespeare and Co. Bookstore, deciding to save The Louvre, Montmartre, The Latin Quarter, L'Orangerie, and The Musee D'Orsay for other days, all the while searching for authentic crepes and good French coffee and all the stuff that actual Parisians do in Paris. We were wearing ourselves the hell out. We had an American in Paris rock bottom moment when we were wandering around Le Marais – supposedly "the Brooklyn of Paris" – looking for dinner and all we could find were cafes that served burgers and fries.* We were getting flustered. Where's the cool stuff?! We're New Yorkers, god dammit! We're better than this!
* Seriously, the preponderance of burgers and fries on menus in restaurants in Paris was incredible in the most literal sense of the word. We came across a restaurant called Bedford Burger that featured the Chuck Norris Burger – good name. The proprietor came out and told us that their burgers were better than the ones on Bedford. We didn't have the heart to tell him that that meant virtually nothing. And, yes, my Pulp Fiction fans, I hopped into a McDonald's on the Champs-Elysées and found – in addition to the most futuristic ordering screens I had ever seen – that the Royale is still on menu.
We settled into a restaurant where they seated outside, side by side. They do that so you can just lounge and people watch. We got into a conversation with a French couple when the guy apologized for his smoking. It turned into a decent night once we relaxed.
We had to realize a couple of things. First, Paris has a millennium and a half or so on New York City. We weren't going to see everything. Second, it's okay to be a tourist when you're actually a tourist.
Once we made peace with that, we started enjoying things more. Hell, we both unabashedly loved the Eiffel Tower. In a city as rich in history and art as Paris is, we loved the thing that was built for a World's Fair that the residents complain is an eye sore.
I even gave into my most touristy impulse and went into a Starbucks to get a Paris mug. It's the black and white mug with some city monuments on the side. I had this very sophisticated exchange while asking the lady for the mug.
First, I pointed and said, "Uh, noir et blanc." She retrieved it for me and I asked, "Uh, comment dit un… uh… ca?"
"Mug," she said.
The French word for mug is mug. Duly noted.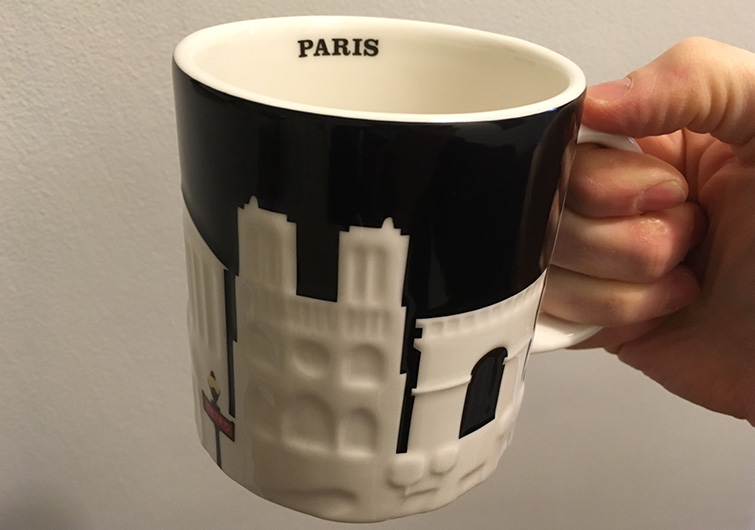 Our search for cool stuff did have one positive effect, though. We realized that we live in one of the best cities in the world and we should be looking at New York every day like we're searching for the cool stuff. In our Brooklyn neighborhood alone we have a park designed by a legendary landscape architect and amazing restaurants and bars in every direction.
And there are a few things that United States and New York in particular do better than anywhere in Europe.
Bagels. Those are ours. Do not forget this culinary treasure.
American beer. When every Tabac has Heineken and Krounenbourg 1664 and that's about it, you remember American craft brews.
Coffee. Paris has good coffee, sure, but I need a huge, gluttonous, twenty ounce American cup of it from a Starbucks that happens to be on every corner.
Burgers. Much like the nuclear bomb, we have the best ones because we invented it.
Pizza. We're at least as good as Italy in this regard.
Yes, this is all food and perhaps my pride in the trivial is the most American thing of all. Europe can have the art, culture, and architecture. And sure, the Metro may be cleaner than the MTA but I have two words for you: express trains.
Paris also had me looking at my home city as a tourist. If I were to tell anyone – American or not – where to go in New York, what would I tell them? Here's what I came up with.
Walk across the Brooklyn Bridge.
When you get to the Brooklyn Side, go to Julianna's for pizza.
Then go walk on the Brooklyn Heights Promenade.
Ride the Staten Island Ferry to Staten Island and back. Don't get off. Time it so that the sun is setting on your way there and it's dark on the way back, so you see lower Manhattan lit up.
Eat a burger. Go to Corner Bistro. If not, Shake Shack. That'll do.
Walk the Highline then go to the Whitney.
Go to Central Park. Then go to Prospect Park.
Walk around the West Village. Have a drink at the White Horse, Kettle of Fish, or Chumley's (haven't been to the remodeled one but, eh, still go).
Go to TKTS and get tickets for a musical, any musical, it really doesn't matter.
It's a vacation. Relax. Do stuff that you like. It'll be the little things that you take with you anyway. I liked getting us croissants in the morning at the little storefront behind our Air b 'n b. I got to order them in French and the French people, knowing I was an American, let me. That was cool.