Around the corner from my apartment in Brooklyn there's a small shoe store that specializes in sneakers. They have some cool shoes but nothing spectacular. It's empty most days and I wondered how they stay in business until I saw the line down the street that forms once a month when they get a new shipment of Air Jordan sneakers. It would appear there is a faithful, dedicated audience for this store that keeps them going. I believe they're called sneakerheads.
I'm definitely a fan of a good pair of sneaks but I'm not a sneakerhead. I am, however, a jerseyhead.
In any highlights from the seventies, soccer teams had polo style jerseys that looked the same from year to year. Now, they release a new jersey every season and I am a willing participant in a pretty blatant marketing scheme. I actually start googling for leaked pictures of next year's jersey, or "kit", at the end of each season, especially for the team I follow, Tottenham Hotspur. When I was a kid I even looked forward to getting our latest Umbro travel soccer uniforms.
During this past summer's Euros, I trotted out a bunch of my jerseys during the tournament. My friends on facebook who follow soccer know about my jersey curse in which any time I wore a team's jersey, they lost. It actually started with England in the 2014 World Cup. I believe I also cursed the Netherlands that tournament. This year in the Euros it was Croatia, England (again, though, they shoulder a great deal of that blame), and Belgium (who I really did want to see win). My bad juju ran out with Portugal. I purchased it for the expressed purpose of the jersey curse. I wore that damn jersey twice out of spite and they still won the whole tournament.
But posting these pics made some people rightfully ask, "Uh, why do you have a Croatia jersey?" and "Dude, how many jerseys do you have?"
I have twenty-six.
It actually doesn't sound like much but, at roughly ninety bucks a pop, it's substantial. (Mercifully that damn Portugal jersey was on sale.)
I buy jerseys to support teams I like. I buy jerseys to support players and countries I like. I buy some just because they look cool. And I buy others out of spite. So, here they are in all of their glory, all of my damn jerseys.
Sheffield Wednesday

My father was raised in Sheffield and, in the nineties, the mulletted USMNT captain John Harkes played for Sheffield Wednesday and even scored a Goal of the Year. Chris Waddle, namesake of the Coerver move "the Waddle", also played for Wednesday for a few years. So, it was a no brainer to root for this team as a kid. I bought two on a trip to England with my dad, the skinnier vertical stripes one being an older jersey on a sale rack. My dad bought the third one with the Sanderson sponsorship on the front on a solo trip to England.
England

In 1990, soccer was not available on television in the United States. It would be a year or two before they started showing a random Italian game on Sunday mornings in Italian on a random cable station. So, I had one soccer game to watch over and over again on VHS. It was the 1990 World Cup semi-final between England and West Germany. I probably watched it fifty times, knowing the outcome, knowing the plays, going so far as to quote commentary as it happened. And here's the really funny part, it was only a two hour tape, so, my father had to rewind it and start recording again to fit the extra time and penalties. So, when I watched, I started with the extra time, then watched England lose on penalties, then watched the rest of the preceding game.
So, it is due to heritage and habit that I will always follow the English national team and buy their jersey. The pain of following the English national team, much like the pain of eventual extensive dental work, is in the DNA of every Englishman.
I actually like the red English away jerseys best. The white ones are a little bland. That blue one is a third jersey (the alternate to both home and away, only used when necessary) from the nineties I believe. It's weird. I've never worn it publicly.
United States Men's National Team

I was wearing these jerseys during the 2014 World Cup when the US beat Ghana and almost beat Portugal (damn you, Portugal) in the group stages. I was wearing the red, white, and blue jersey when we lost to Belgium. I have little hope for the US Men's National Team ever truly becoming a world power but whenever they play in the World Cup, and soccer fans come out of the woodwork and every bar is packed with people rooting for the USA, it's hard not to get caught up in it.
Spurs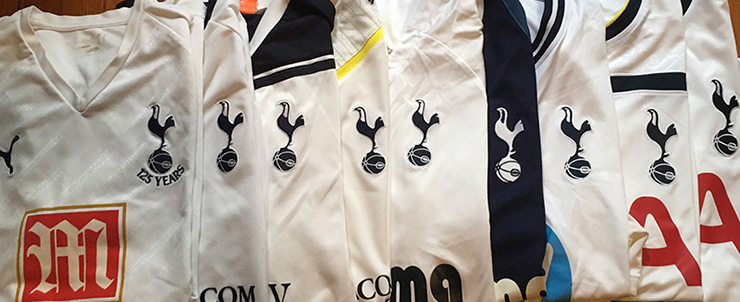 By the time I started watching soccer again in 2006, my boyhood club Sheffield Wednesday was out of the Premier League (Note to American sports fans: there's relegation in soccer in which the bottom three teams get demoted to a lower league and the top three teams from that lower league get promoted.) I liked the underdog – but not too underdog – tradition of Spurs and I dove headfirst into soccer fandom.
Sports, at various times in my life, have given me a vital hobby to get me through lonely times. In the mid-2000's I was painfully single for years but catching my weekly Spurs game at the Iona bar on Grand Street in Williamsburg was the highlight of my week.
I wore my first Spurs jersey to watch them win the League Cup against Chelsea in Floyd on Atlantic among a bunch of insane people collectively known as the NY Spurs Supporters Club (they would be thrown out years later for an "incident" with a patron playing bocce during the game). I wore these jerseys while watching Gareth Bale emerge as one of the greatest players in the world. I wore these jerseys when we beat Manchester United at Manchester United for the first time in twenty years. These jerseys are my sports geek badge and I'll be buying another one this year.
Other National Teams

I basically buy other national team jerseys because I think that they look cool or because Spurs feature a bunch of their players. I bought the Croatia jersey when Luka Modric, Vedran Corluka, and Niko Kranjcar all played for Spurs. I bought the Belgium jersey becasue of Moussa Dembele, Jan Vertonghen, Nacer Chadli, and Toby Alderweireld. I bought the Dutch jerseys because of the book Brilliant Orange and because of Rafael van der Vaart. That black Netherlands away jersey is actually a personalized van der Vaart jersey.
And I bought the Portugal jersey just to curse Portugal. Perhaps I played my karmic part in Ronaldo's exit from the final but, alas, my powers came to an end and now I'm stuck with it.
Miscellaneous

Okay, yes, that is a Chelsea jersey. Before I came to support Spurs, I shopped around for a team to support. I knew I couldn't pick Manchester United. I had no feeling either way for Liverpool. I thought, okay, let's try a London team. How about Arsenal? (This is a tricky admission given that I ended up following their arch rivals.) There weren't any Englishmen on the team, though. These were the years of Kolo Tore, Emmanuel Adebayor, William Gallas, Robin van Persie, etc. So, I figured I knew John Terry and Frank Lampard from the national team. Chelsea it is! I was later turned off by the Russian billionaire factor and the story that both of those guys had been involved in an incident where they drunkenly mocked American tourists a day or two after 9/11.
I don't like the team but I've got to say, I like the jersey. I never wear it, though.
The Celtic one? I could tell you that I admire the tradition of Celtic. That's true. I'm also Catholic and would naturally support them. The truth is that I bought it because it's cool and I wear it on St. Patrick's Day. I'm not really proud of it but there are worse reasons to own a jersey.
If you have read this far, you are most likely either a very close friend, extraordinarily bored, or as big a soccer and jersey geek as I. In any of those cases, we should watch a game together. The Premier League season starts this weekend. Call me. Seriously. I'll buy you a beer.